You may contact our customer service representatives at (434) 575-4240 between the hours of 8:00 am and 4:00 pm, Monday through Friday.

HCSA provides Emergency Services after hours for service interruption, water leaks or sewer blockages. Please notify us before you call a plumber.
You may contact our Emergency personnel at
(434) 222-7798 in the event of an issue with interrupted service,
The HCSA Business Office is open Monday Through Friday
Normal Business Office Hours are Monday - Friday
O
ffice Hours are from
8:30 to 4:00 PM Monday through Friday.
HCSA celebrates all state holidays and observances.
HCSA offices will remain closed to the public and we encourage that you call or email our customer service agents at:
(434) 575-4240 or customerservice@hcsa.us
The HCSA Business office will continue to provide services to our customers through our website for bill payment and customer service inquiries. All necessary forms and service applications are available for download or on our website.
HCSA Staff and Contractors will begin installing a new "Advanced Metering Infrastructure (AMI) system technology beginning June 01, 2021. All meters will be replaced with new "Smart" meters and should be completed in early August. You will recieve more detailed information with your water and/or sewr utility bill.
Beginning January 1, 2022; all water and sewer customers will begin to receive their water bill on a monthly billing cycle.
The Halifax County Service Authority (HCSA) provides drinking water and wastewater services to South Boston, Halifax, Clover and Virginia Intenational Raceway and Halifax County.
Our drinking water comes from the Dan River and is fully treated at our Leigh Street Water Filtration Plant in South Boston. The drinking water produced meets and exceeds all Federal and State water quality standards, providing water that is clean, healthy and safe to drink. HCSA maintains over 200 miles of water and wastewater service and collection system infrastructure.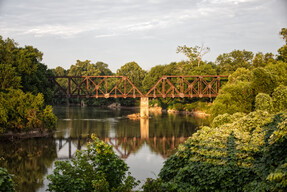 HCSA Board of Directors Meeting
HCSA is governed by a seven (7) member board of directors who assure
that all operations
are funded through
revenues generated solely by fees and usage charges.
The next scheduled HCSA Board Meeting will be held on
Thursday, February 17, 2022 at
HCSA will hold a Public Hearing on
June 17, 2021 at 3:30 PM to recieve comments on:
Intent to apply for USDA Funding for a Pre-Development Grant for Water Plant Upgrade

Intent to apply for VDH ODW planning Grant and Loan for Lead & Copper Service Line Identification and Replacement

Notice of Intent to Apply For Funding
The Halifax County Service Authority herby provides notice of its intent to file an application for funding with USDA Rural Development to the proposed Water Treatment Plant Predevelopment project, which consist of obtaining the services of an engineering firm to prepare a preliminary Engineering Report (PER) and Environmental Review (ER).
For additional information or to offer comment, please contact Mark Estes, Executive Director, 2529 Houghton Avenue, South Boston, Virginia 24592 and by phone at (434) 575-4240 or (TTY711), or by email at mestes@hsa.us. If you plan to attend and have any special needs requirements, please call the number listed above.
Our Mission
To provide quality water and wastewater services that meet all applicable standards at a reasonable cost to satisfy the needs of existing and future customers.
Provide high quality services to our customers at affordable rates with outstanding customer service.